'If left unpunished, criminals write their memoirs', an old aphorism goes. These memoirs often aim to justify their deeds, put the blame on their victims and serve as preludes to future crimes.
This could not be more true, than when applied to genocide denial. Indeed, the genocide against the Tutsi in 1994 was the culmination of 30 years of politics of impunity enjoyed, both internally and internationally, by those who oppressed them for decades. The proliferation of genocide denial in the last 27 years in the West too was a result of France and the Vatican's support to genocidaires.
As relations improve, media houses will allocate the ongoing rapprochement on the change of heart of France and – or the Vatican. In reality Emmanuel Macron, or Pope Francis did not jump, they were pushed: by the person of Paul Kagame.
In this article I will explain five points:
The consequences of impunity;
The support of the Catholic Church and Belgium to Genocide politics;
The support of the Catholic Church and France to Genocide politics;
What changed;
The turning point.
1. The consequences of impunity:
Anti-Tutsi pogroms started in 1959, went on in 1960, 1961, 1963, 1972-1973, 1990, 1992 and finally 1994. But they were never punished. The peasants who were empowered to kill Tutsi in the fifties, sixties and seventies and got rewarded for it, gave birth to the genocide perpetrators of the nineties, whom, in turn would give birth to modern-day genocide deniers based in Europe, such as Donatien Nshimyumuremyi the son of Felicien Kabuga, believed to be the financier of the genocide against the Tutsi.
On May 20th 1963,  Gregoire Kayibanda, founder of a racist party MDR-Parmehutu and officially the first post-independence president of Rwanda decreed a general amnesty for all who had taken part in the persecution of Tutsi families. He called it a 'popular revolution' – or 'Muyaga' (the wind) in Kinyarwanda.
The same law however, excluded from the amnesty members of UNAR, Tutsi and Hutu monarchists and independence fighters, grouped in a pro-independence party: The Union of Rwandan Nationalists. In 1963, following the first attack of the Inyenzi – the armed wing of UNAR from Burundi, Tutsi who constituted over sixty percent of the population in the southwestern province of 'Ubufundu' and 'Ubugesera' were slaughtered by Hutu local leaders and peasants who were promised to take over their estate.
At the time, no one in the international community condemned the massacres, not even the Society of Nations (SDN), only an informal 'Russell-Sartre Tribunal', led by British and French philosophers Bertrand Russel and Jean Paul Sartre denounced, for the first time, an ongoing Genocide against Tutsis, in 1964.
Then president Kayibanda made a speech in the Gitarama stadium in the presence of the entire diplomatic corps: 'who is committing genocide?', he remarked, before prophesying doom: 'I would like to address all Tutsi here: supposing your folly would lead you to seize Kigali, that would be the precipitated end of your race'. This was on April 11th 1964.
By that speech, Kayibanda had denied the genocide and put the blame on the victims for bringing death upon themselves. He had justified a genocide of innocent civilians by an attack of a rebel movement.
2. The support of the Church and Belgium to genocide politics.
At each stage, genocide perpetrators had a Western backer. The 'Parmehutu' were supported by Belgian colonialists and the Catholic Church. Before becoming president, Kayibanda was personal assistant to Swiss clergyman André Perraudin, Archbishop of Kabgayi, western Rwanda from 1959 to 1989.
Perraudin, whom (for his 60th priesthood jubilee in 1999 was visited in his recluse Swiss village of Valais by Tutsi survivors, who offered him a 'golden machete' for sowing hatred in Rwanda), despised Tutsi and all members of UNAR. With Belgian colonialists they misled the world by calling them 'Communists'. This made Tutsi exiles pariahs in the eyes of the West, and in a context of the cold war, unable to articulate their cause on the international stage. Many elders recalls: 'they used to call us communists, but we had no idea what that meant. Our knowledge of communism was limited to our admiration of Nkrumah and Lumumba.'
In 1959 as Tutsi were being persecuted, the powerful Catholic church issued a decree to all its dioceses, that 'Rwandan communists' were enemies of the Church and of God, and that it was the duty of each catholic to fight them, for they would receive 'indulgence' from the church.
In other words, killing Tutsi in Rwanda was legalized by the state and consecrated by the church.
Tutsi were massively exiled out of Rwanda. Those who stayed, were dispossessed of their lands, cattle and wealth, then deported from their regions of origin and effectively into 'Tutsistans', in Rukumberi, in Bugesera and many other arid, inhospitable areas replete with the Tsetse flies. They were then surrounded by relocated Hutu communities from northern Rwanda, with the mission to kill their neighbors when the time comes. To the surrounding Hutu communities, schools, hospitals, water and electricity were built; but to the beleaguered Tutsi? Nothing…
For thirty years, they would be subjected to systemic oppression, their daughters abused, forced into marriages at minor age, their brothers and fathers beaten up and humiliated daily. The most gripping testimonies of genocide survivors are from these Tutsistans. Some accounts are unbearable and mentally troubling that I refrain from reading them to be able to continue living and functioning in Rwanda.
3. The support of France to genocide politics.
For 27 years since the Rwandan Patriotic Front put an end to the genocide against the Tutsi, France and the Catholic Church, both which stood accused of a complicit role, remained fervent supporters of their hitherto accomplices and shielded them from prosecution. Upon their defeat, dignitaries of the genocide regime were evacuated with their families and installed in the 'metropole' – mainland France, in the Vatican – and across Europe.
Admittedly, genocide denial in Europe emerged in tandem with important advances in the repression of the genocide against the Tutsi by the International Criminal Tribunal for Rwanda (ICTR).
However, the clergy and the French continued to frustrate efforts of the ICTR and the RPF-led government to bring killers to justice. They continued to mislead the international community too: President Francois Mitterrand was the first to speak of 'Les Genocides' implying that there had been genocides on both sides. His successor Jacques Chirac conspired with a judge, Jean Louis Brugere to issue indictments against the post-genocide Rwandan leadership. Books and reports were funded, claiming that the genocide was caused by the RPF, describing a group of foreign invaders from Uganda, backed by the Anglo-Saxon world to oppress otherwise peaceful Hutu, the true owners or Rwanda.
Others affirmed that the RPF shot down the plane of late president Habyarimana triggering the genocide; others too, that the RPF conducted a genocide on Hutu populations in Rwanda and in the Democratic Republic of Congo. All these authors would promptly be published by French editors and invited to speak on TV platforms and decorated by the state.
Priests such as Wenceslas Munyeshyaka who had raped Tutsi women during the genocide continued to officiate in village parishes in France, while genocide masterminds, such as Agatha Kanziga, the wife of former President Habyarimana continued to live freely in the 'metropole'.  British author Linda Melvern revealed that French intelligence (DGSE) dispatched fake intelligence to sister services across the world and carefully framed the narrative that RPF spies were out targeting dissidents overseas.
Belgium which had been the first western nation to acknowledge its fundamental responsibility in the Genocide against the Tutsi, did nothing thereafter to outlaw associations that peddled genocide denial and double genocide theories. It's universities continued to fund covert ethnic profiling in Rwanda.
This empowered children of genocidaires, whom all grew up in Europe, to advance theories that said their parents were innocent. They openly collected money to send to FDRL – a blacklisted terror organisation, and filmed themselves visiting the armed militia in Eastern DRC forests, then returned to Europe unbothered.
Backed by France, Belgium and the Catholic Church, killers and their offspring enjoyed the arrogance of impunity for over two and a half decades!
4. What changed?
Rwanda went on the offensive. Paul Kagame did the unthinkable: On Monday, November 27th, 2007 he ordered the shutting down of the French Embassy in Kigali, effectively cutting all relations with France. The decision sent shockwaves across former French colonies, all of whom started counting days before Kagame would be assassinated, Rwanda embargoed or sent back into civil war. Even some Rwandan civilians were worried. Nothing came of it.
Instead, Paul Kagame became a prominent figure in African governance. He offered military and geopolitical support to his peers across the continent and especially in 'francophone' world. He sent Rwandan troupes to maintain peace in Cote d'Ivoire and Haiti, sent Rwandan advisers to Benin's newly elected president Patrice Talon. He brought back Morocco into the African Union and befriended Ali Bongo of Gabon and late Idriss Deby of Chad. After the French had done nothing in Central African Republic, Paul Kagame sent his boys to pacify the country, guard the President, all visiting dignitaries and oversee peaceful presidential elections.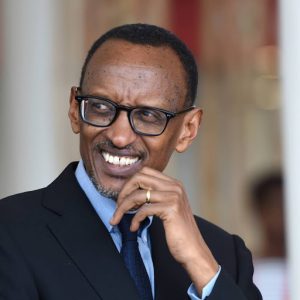 After a visit in Kigali, Ali Bongo declared he was contemplating making Gabon an Anglophone country and ordered English to be taught in primary schools. Professor Alpha Conde, an alumni of 'La Sorbonne' – the prestigious French University, declared in a speech and in French to hold Paul Kagame as his example of leadership. Two years ago, at the Pan African Film Festival (Fespaco) in Burkina-Faso, Paul Kagame was invited by newly elected Roch Kaboré as Guest of Honor of its  26th edition.
Sooner, African leaders elected him to lead and reform the African Union Commission, whence he pushed for a groundbreaking Continental free trade agreement. He became popular with African youth, who frequently elected him: African of the Year. African Heads of State told off France: 'we are tired of your democracy talk. We want that! We want Kagame's model!' Over time, Kagame's aura had come to threaten France's presence on the cradle of mankind…
5. The turning of the Tide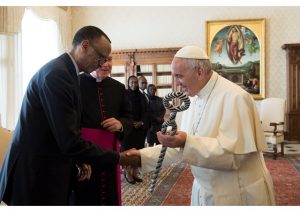 The tide started turning when Nicolas Sarkozy, a moderate conservative who had no political affiliations to leftist Francois Mitterand acceded to power. Sarkozy, as a son of a migrant Jew from Hungary, felt no need to defend crimes of his remote political rival.
Nicolas Sarkozy became the first French president to visit Rwanda after the Genocide against the Tutsi and pronounced 'the beginning of' a speech of repentance. Sarkozy's efforts were suddenly thwarted when another Mitterand's disciple, Francois Hollande took over from him and returned to old genocide politics.
But relations between Rwanda and France really warmed recently, when a young, dynamic banker came, saw and disrupted the French aging political class, exploding classical left and right parties. Emmanuel Macron redefined the political landscape by appointing tech savvy young people and activist from the civil society; a French civil society which had been broadly supportive of the RPF-led government.
The French old guard retained sway in the army and the parliament where they retreated, licking their wounds and ruminating long lost France-Afrique glories. Frustrated, the French parliament denied Vincent Duclert's commission access to its archive (I will come back to this), and last month on April 21st  Following the release of 'Duclert report' pointing to France's overwhelming responsibility in the Genocide Against the Tutsi and criticizing France's military intervention in Rwanda in 1994, 20 retired army generals surprised everyone by signing a petition threatening a military coup if 'civilians were unable to bring back France's lost glory'. This latest one is so uncanny I have to share the link, published in an old french right wing pamphlet: Valeurs Actuelles
See, unlike Rwanda Defense Force, French army is not a republican army. Like most institutions in France, it promotes its own popularity instead of looking at the bigger picture of french national interests. In reality, France's presence in Africa is untenable without an alliance with Rwanda, and France without Africa will become Portugal in less than ten years: a former colonizer who now receives aid from its rich former colonies, namely Angola and Brazil. Therefore, although written in English, this blog is probably more vital to the French audience than it is to Rwandans…
However the French parliament and army's shortsightedness did not deter Emmanuel Macron's action, which coincided with the reign of a modern and progressive Pope Francis. Indeed it wasn't hard to imagine that the 'youthful' Pope and the young French president would be getting along with Paul Kagame.
The Pope invited the Rwandan President to the Vatican and apologized on behalf of the church, he then appointed a genocide survivor, Father Antoine Kambanda, the first Cardinal of Rwanda as France appointed another genocide survivor, Louise Mushikiwabo as the head of the Francophonie.
With a Genocide survivor at its helm, the catholic church seems to have ceased genocide ideology and acts of mocking genocide survivors and promoting genocide ideology in Rwanda, which had continued uninterrupted until recently.
Emmanuel macron commissioned a panel of historians led by Prof. Vincent Duclert, to research the role of France in the genocide against the Tutsi. Earlier, Rwanda had hired a Washington based law firm, Muse and Levy Firestone, with the same mission. Both reports (Ducert and Muse) concluded to France's 'overwhelming responsibility in a foreseeable genocide',  but stopped short of finding 'complicity of the French government' – no doubt to allow political reconciliation between the two longtime rivals.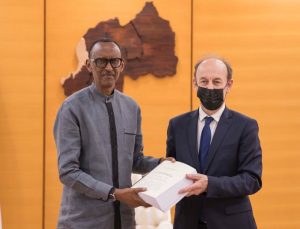 In legal terms however, both reports did their work and provided sufficient evidence for any international court to take the next step. Indeed in what is known as the 'Akayezu case', the ICTR ruled that complicity did not require intent. In other words, the French needed not intend to kill Tutsi, So long as they knowingly assisted the murderers, then they are complicit to murder. In the same vein, notorious Genocide financier, Kabuga Felicien who had eluded capture for 26 years, suddenly turned up in handcuffs in a Paris suburb, captured by Interpol and French police.
Both French and Belgian governments passed laws against denial, and declared April 7th, a day of reflection on the Genocide Against the Tutsi, and in December 2020, for the first time in French Media, a famous journalist Natasha Polony was indicted for genocide denial by courts after she declared in a radio program that the Genocide was 'an affair of criminals turning against other criminals'. Her trial is expected on May 26th 2021.
Then it was the turn of renown French Author Patrick de Saint-Exupery to publish a book: 'La traversée' (the cross-over), debunking double genocide theories. After a first book: l'Inavouable' (the unrepentable) establishing the role of France in the Genocide Against the Tutsi, 'La Traversée' researched the alleged genocide against Hutu in DRC. The war reporter had journeyed in the footsteps of Hutu refugees across the DRC, interviewing villagers, and found no evidence of the alleged mass murders. He concluded that the theories were lies calculated to blur the lines and deny the genocide against the Tutsi. The 'Duclert report' later concluded in the same lines.
Such critical advances are often lost in translation between French and English worlds in Rwanda and abroad. It is important, in my view, to seize this moment, and record, in time, that France seems to be distancing itself with genocide perpetrators. This means that those who counted on French support to deny the genocide perpetrated against the Tutsi might soon face justice.
However, the United Kingdom and the United States seem to have replaced the French and the Catholics in that position, referring in their official communications to 'The Rwandan Genocide'. The new US representative to the UN, Mrs Linda Thomas-Greenfiel, who was in Rwanda in 1994 and used to give moving testimonies on 'how she survived the genocide against the Tutsi', seems to have forgotten how to call it…
Paul Kagame is visiting Paris for a summit on Sudan and Africa's financing and Emmanuel Macron is expected in Kigali in this month of May 2021. It will be the second visit of a French President in Rwanda since the genocide against the Tutsi. The question remains: Will Emmanuel overcome fears of the 2022 presidential elections in France and pronounce a bold speech of repentance in Kigali? The answer in a few days…