Instead of celebrating the holidays, Lonzen (and I) are celebrating Lucy (Nshuti) Mbabazi.
Almost 3 months ago I learned that my friend Lucy was moving to Ghana to work with EcoBank in West Africa. I wrote something about how I felt about the news I had heard. I didn't post it. But 'This is a season to celebrate. Let's celebrate people instead of the season itself.
I know Lucy for being a compassionate and emphatic person. It means I know her for being a human being. I speak of the courage to exercise these senses that are ever numbing in most of us. In Rwanda she has found her nice as the voice of the weak and vulnerable. She was ever patriotic in her quest to raise the consciousness of the concerned authorities to the predicament of the "voiceless."
Lucy made patriotism cool. She passionately defended her country against unfair external onslaught.. We are now devoted patriots on the Stweets. But she was the original. When need be, she would turn to her own and demand more from them. It was never blind patriotism. It was responsible citizenship.
Lucy was always encouraging of others and believe in sending the elevator down to pick someone else up. Encouraging others came natural to her, like breathing. It is not a coincidence that she was the first person to comment on the first tweet I ever wrote welcoming me to the Stweets, however rough they can get sometimes and I wish to blame her (and someone else I shall speak about another day – my 1st and 2nd followers
).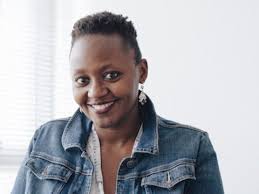 She was respected and admired by her contemporaries, and was a mentor to many. Her peers, The two of us included, will miss her authenticity; the mentees corps she has left behind will feel orphaned by her absence.
That is Lucy. She was the centre of moral gravity and consciousness in our city.
As she exits to West Africa, a void shall be felt and someone must fill it for the good of our society.
We shall fill a deficiency of empathy and compassion because she possessed the qualites where great paucity exists.
Lucy is pan African consciencism personified, as Ghana's own son, Dr. Kwame Nkrumah would observe of Lucy.
Ghana gets the gift of Lucy. I'm not sure we ever appreciated her as we should have. But the bible has something to say about that. So do we. Uwambaye ikirezi ntamenye ko cyera.
When pointed to Lucy, the only person who ever got close to understanding the value of Lucy to our society asked this question:
"The Lucy?" Yes, The Lucy.
(From both of us): As Tupac Amaru Shakur would say: 'There is no way (we) can pay you back, but (our) plan is to let you understand: you are appreciated' -Dear Mama
Merry Christmas Nshuti.